Langtang 10 Days Trek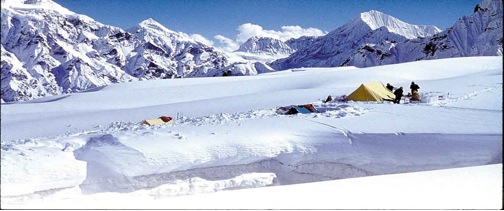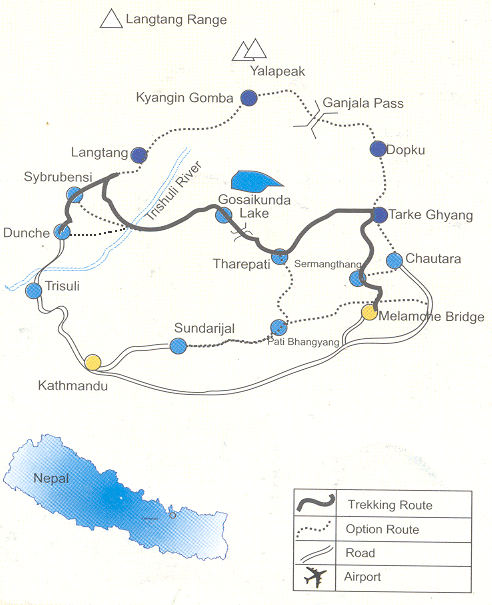 Day 1: Drive to Syabrubensi. Trek begins (1,470m, 8-9 hrs drive – 132 km)
This morning we'll drive on a northern highway that twists and climbs over mountain ridges to the Trishuil valley for lunch and on to Syabru village for the overnight. The journey will take 8-9 hours through picturesque landscapes, mountain scenery and local villages. From Syabru we'll have magnificent views of Mt. Ganesh Himal, Manaslu and Mt Kerung of Tibet. We'll relax tonight at a local teahouse.
Day 2: Trek to Lama Hotel: (2480m,5-6 hrs walk)
After breakfast we start to walk own our pace and the trail ascends for around two hours through the forest followed by a climb of about an hour to reach Bamboo village (1,850m/6,068ft) where we'll stop for lunch. This forested path with well stabilized trails and following the up stream and can be seen birds life around the bushes. Bee hives hanging on a cliff are another attraction for the visitors. From here we'll again steeply climb through the bamboo forest to reach the Lama Hotel where we'll rest and overnight at a local teahouse.
Day 3: Trek to Langtang: (3,480m/11,415ft, 4 - 5 hrs walk)
Today we'll have a pleasant walk and follow the trail through rhododendron and pine forest for around three hours to reach Ghora Tabela where we'll stop for lunch. This surrounding area dense wild habitat area and many small babblers with lot of herbal can be found here. After lunch we'll walk another three hours on the scenic trail takes us to Langtang village where we'll relax for the evening.
Day 4: Arrival in Kyanjin Gompa: (3,860m, 3-4 hrs walk)
After breakfast this morning we'll leave the village and start our trek leisurely for around three to four hours to visit Kyanjing Gompa. From here we'll also have beautiful views of Mt Ganchempo and Langtang Lirung. We'll visit surrounding area like Yak cheese Factory, Monastery and local houses as we relax for the evening at teahouse.
Day 5: Rest day at Kyanjin Gompa
Today you may have full day of rest and relaxation at the surrounding area. We'll be able to simply relax and enjoy the views or to explore the local area or visit some highlights of Cherku-ri (5,150 meters), glacier walk or Langshisha kharka depends on your fitness and interest.
Day 6: Trek back to Lama Hotel: (2480m, 6-7 hrs walk)
This morning we'll retrace our steps somewhat as we head back from the Gompa. We have an easy down hill and pleasant walk through the rhododendron forest to Lama Hotel where we'll rest for the night before continuing our journey tomorrow for the Thulo Syabru village.
Day 7 Trek to Thulo Syabru: (1,900m, 5-6 hrs walk)
Today our trail leads again through bamboo and rhododendron forest where we may see the local wild boar as well as other animal and birdlife on the route to Thulo Syabru. En route we'll have marvelous views of Mt Ganesh Himal, so close it seems like it's beside us. Firstly easy down hill follows the river bank but last part steeply up hill for couple of hours to get to the village.
Day 8: Sing Gompa - Visit Gosaikunda and return
We follow a rugged trail with dramatic views; to the west Himal chuli(7893m) Manaslu (8156mm) and Ganesh Himal(7406m). On a clear day even the Annapurna range can be seen rising up behind and to the north across the valley is Langtang Lirung. We pass a few huts in the high picture of Laurebina, cross a small ridge and have our first views of the holy lakes. There are about a dozen lakes in the Gosainkunda Basin, the main three being Saraswatikunda, Bhairabkunda, and Gosainkunda. According to legend, Gosainkunda was created by Shiva when he pierced a glacier with his trident to obtain water to quench his thirst after having swallowed a poison that threatened to destroy the world.
Day 9: Trek to Dhunche (1650m, 6hrs walk)
This morning after breakfast we'll be ready for trek onwards to Dhunche. This is quite pleasant walk through the forested path and some old Tamang village's takes to get 4-5 hrs. After arrival in Dhunche, rest of the time explores the town which is headquarters of Rasuwa district. This will be your last night with your trekking crew except trekking Guide. Trekking crew will organize a farewell ceremony, Nepali song and dance, staff members will be allowed to drink to join the party. You may want to try local drink called "Rakshi", please be aware; it does not taste good and is very strong.
Day 10: Drive back to Kathmandu