Kanchanjunga Trek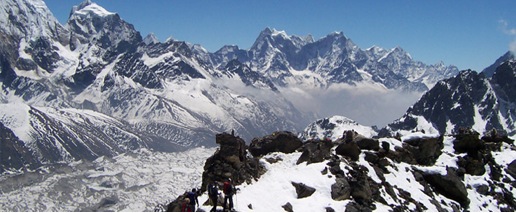 Still unspoiled, the area beyond Taplejung offers magnificient treks, both to the north and the south base camps of the giant Kanchanjunga range, myriad glacier system, high pass crossing and vast unspoiled foothills.
The highest point reached is 5143 meters, the north base camp. Ghunsa village is the last permanent settlement for local inhabitants.
With the flight in and out of Suketar (Taplejung) it can be 16- day trekking, with the drive both ways 18 – 20 days.
TREK GRADING: D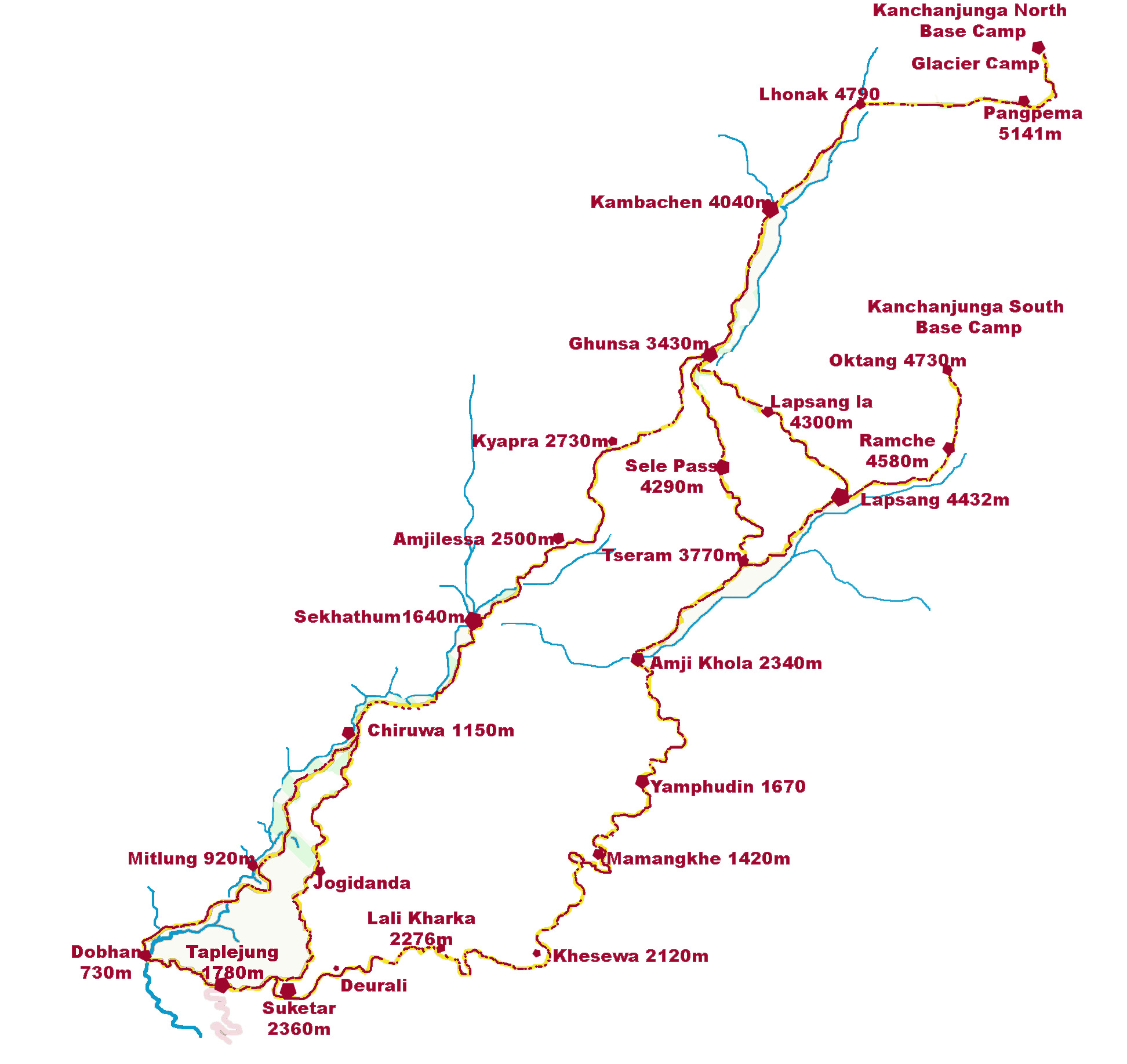 Detailed Itinerary
Day 01:
Fly to Biratnagar and stay there in a hotel. Take a day tour around the town.
Day 02 MITLUNG (920m):
Fly to Suketar (Taplejung) a 35 minute flight, meet guides, camp staff, porters and begin walk. After 5 hrs. walk, down hill, Mitlung is reached, a small village with 5 houses. Camp below the village.
Day 03 CHIRUWA (1150m):
The trail passes along the Tamur river for approximately ¾ hours through some beautiful rock gorges and the occasional small Buddhist village. Camp beyond Chiruwa after passing through bush forest where abundant bird life is evident.
Day 04 SIKATHUM (1640m):
A relatively easy walk up the river, pass the well kept village of Tapethik, to a lunch spot after 2 ½ hours. The trail rises and falls more steeply after lunch for 2 hours, until the riverside campsite at Sikathum is reached after crossing the rivers Simbua Khola and Ghunsa Khola.
Day 05 AMJILASA (2500m):
A steep and long climb up a trail that is quite rough and exposed in places for approximately 5 hours. Good views of valley and river below and Himalayan peaks in the distance. Several open Yak grazing pastures exist here and clear side streams provide good water supply.
Day 06 KYAPRA (GYAPLA) (2730m):
A moderate ascent along the ridge for approximately 1 hour and then a steep decent to Tangep. From here it is hike along the river banks through densely forested hillsides – (bamboo, fir and scattered rhododendron). The river drops steely with many waterfalls and crystal clear pools. Climb up to green pastures just beyond a group of Buddhist stone houses at Kyapra (Gyapla).
Day 07 GHUNSA (3430m):
Generally along the river the trail gently undulates with a few steep uphill portions. Pass through the village of Phele and perhaps visit a Buddhist Gompa near to the village – much Tibetan art is evident as are the villagers weaving Tibetan rugs. Ghunsa is a large Tibetan community of stone houses and tidy small farms. Camp above Ghunsa.
Day 08 SHIELELE (4290m):
Walk up the ridgeline for about 2 hours, then cross Tamo La – Shielele for camp – walk about 6 hours.
Day 09 TSERAM (3870m):
Climb to the ridge then cross Mirgin La. After the pass, another 2 ½ hours Tseram is reached for camp.
Day 10 RAMZE (4580m):
The trail from Tseram is a gentle uphill one which goes through the woods, cross streams. Leaving Lapsang, continue on and pass a small pond. After walking about 4 ½ hours Ramze is reached.
Day 11 DORONDIN (2990m):
Start early for the hike up to the Waktang for views. Only by going to this point can you see the entire peaks of Kanchanjunga. Return to Dorondin for camp by a stream.
Day 12 AMJE KHOLA (2340m):
The day is about 5 ½ hours walk through thick forest and meadows.
Day 13 MAMANGKHE (1420m):
6 hours walk.
Day 14 KUNJARI (1675m):
near Pakhola – 6 hours walk.
Day 15 SUKETAR (2360m):
5 ½ hours walk.
Day 16 :
Fly to Biratnagar and Kathmandu.