Kanchanjunga Base Camp Trek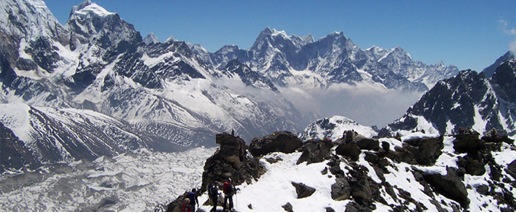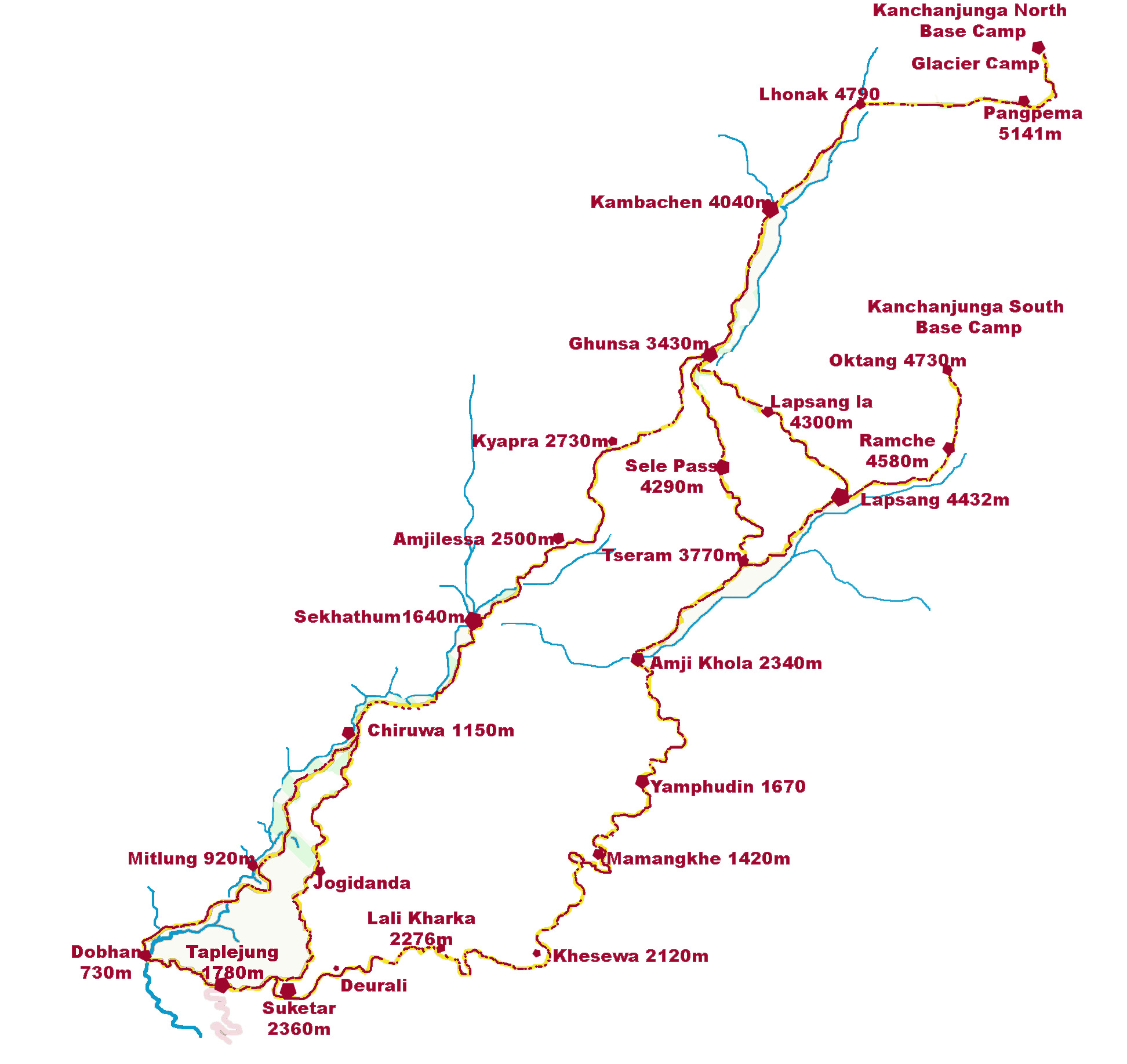 Still unspoiled, the area beyond Taplejung offers magnificient treks, both to the north and the south base camps of the giant Kanchanjunga range, myriad glacier system, high pass crossing and vast unspoiled foothills.
The highest point reached is 5143 meters, the north base camp. Ghunsa village is the last permanent settlement for local inhabitants.
With the flight in and out of Suketar (Taplejung) it can be 16- day trekking, with the drive both ways 18 – 20 days.
TREK GRADING: D
Detailed Itinerary
Day 01 BASANTPUR (9000'/2744m):
Fly from Kathmandu to Biratnagar. The bus drive to via Dharan, Dhankuta and Hile begins in the Terai. But soon starts winding up steeply taking one through rich agricultural countryside. Basantpur is a thriving town with a busy weekly market.
Day 02 CHOWKI (9020'/2750m):
Moderate uphill walking for 1 ½ hours to the Milke Danda ridge through dense semi forests of rhododendron and conifer trees; mostly covered in hazing moss. Beautiful views of the terraced hills rolling down to the valley far below. The hills are dotted with agricultural villages. The route continues along the ridge and then descends for 1-½ hours to Chowki where distant views of Kanchanjunga and other big peaks maybe obtained. Total 5 hours.
Day 03 GUPHA POKHARI (9775'/2980m):
A relatively easy 3 ½ hour walk along the ridge from Chowki through enchanting forest of fir, rhododendron and bamboo, past small ponds and scattered houses to the village of Gupha pokhari where there are small stoned houses, Tibetan prayer flags, mixed Hindu (Rai and Limbu) and Buddhist culture.
Day 04 GORJA GAON (6550'/2000m):
A steep trail which takes one both up and down and at times can be rough and difficult – approx. 1 ½ hours to the top of the ridge at 9700'/2957m. Views down into the Tamur valley are obtaining from here. A descent for 3 hours through rich terraced hillside and beautiful plastered houses with thatched roofs to the village of Gorja Gaon.
Day 05 Above DOVAN (2460'/730m):
A steep descent for 4 hours on a rocky trail through rich terraced agricultural hills, past scattered bush and tall stands of 'lumur' bamboo to the town of Dovan which lies on the Tamur river. Across a small bridge and camp near to the river where there are good pools for bathing. The afternoon maybe spent relaxing.
Day 06 MITLUNG (3182'/920m):
The trail is now much narrower than before, and quite rough in parts. It goes up and down quite steeply following the river through agricultural field for three hours before the lunch spot is reached. After lunch, the trail continues with steep ups and downs, including a half hour ascent up a landslip, over large boulders and fast flowing streams, eventually past the village of Mitlung to a riverside camp (2 hours).
Day 07 CHIRUWA (4428'/1150m):
The trail passes along the Tamur river for approx. 3/4 hours through some beautiful rock gorges and the occasional small Buddhist village. Camp beyond Chiruwa after passing through bush forest where abundant bird life is evident.
Day 08 SIKATHUM (6000'/1640m):
A relatively easy walk up the river, pass the well kept village of Tapethik to a lunch spot after 2 ½ hours. The trail rises and falls more steeply after lunch for 2 hours, until the riverside campsite at Sikathum is reached after crossing the rivers Simbua Khola and Ghunsa Khola.
Day 09 AMJILHASA (7872'/2500m):
A steep and long climb up a trail that is quite rough and exposed in places for approx. 5 hours. Good views of valley and river below and Himalayan peaks in the distance. Several open Yak grazing pastures exist here and clear side streams provide good water supply.
Day 10 KYAPRA (9250'/2730m):
A moderate ascent along the ridge for approx. 1 hour and then a steep descent to Tangep. From here it is a hike along the riverbanks through densely forested hillsides – (bamboo, fir and scattered rhododendron). The river drops steeply with many waterfalls and crystal clear pools. Climb up to green pastures just beyond a group of Buddhist stone houses at Kyapra (Gyapla).
Day 11 GHUNSA (11414'/3430m):
Generally along the river the trail gently undulates with a few steep uphill portions. Pass through the village of Phele and perhaps visit a Buddhist Gompa near to the village – much Tibetan art is evident as are the villagers weaving Tibetan rugs. Ghunsa is a large Tibetan community of stone houses and tidy small farms. Camp above Ghunsa.
Day 12 KAMBACHEN (13120'/4040m):
A fairly trail that climbs up alongside the river. Several magnificent waterfalls are encountered along the trail. Yak herders maybe met along the trail. Excellent views of Jannu and other high, snow and glacier juniper. Camp near to aside steam. Total time approx. 5 hours.
Day 13 KAMBACHEN:
A rest day is taken here to enable time to relax, bathe or take a day walk.
Day 14 LHANAK (15416'/4790m):
The trail follows above river for about 1 hour and then heading east drops down to the river. Walking from here is on large boulders that lead to the terminal moraine of the Kanchanjunga glacier. The lateral moraine is then followed with incredible views of the Kanchanjunga glacier and nearby peaks. Total time approx. 3 hours.
Day 15 PANG PEMA (16613'/5141m):
The trail continues along the Kanchanjunga glacier with a moderate to slow ascent with excellent views. Afternoon free for exploration.
Day 16 KAMBACHEN:
Descent 4-5 hours back to Kambachen.
Day 17 PHELE:
Descent 4-5 hours to Phele.
Day 18 AMJILHASA (7872'/2500m):
Ups and downs along the Ghunsa river, past Kyapra and then descend on to Amjilhasa.
Day 19 CHIRUWA (4428'/1150m):
Continue following the river back to Chiruwa.
Day 20 MITLUNG (3182'/920m):
Return back to Mitlung.
Day 21 GORJA GAON (6550'/1997m):
Return back to Gorja Gaon.
Day 22 CHOWKI (9020'/2750m):
A long days return trek to Chauki.
Day 23 BASANTPUR:
A steep climb at first and last views of the high mountains before dropping down, with the trail becoming wider and busier to the campsite at Basantpur.
Day 24 DHARAN:
Take a bus to Dharan (approx. 5 hours).
Day 25:
An hour or so drive from Dharan to the airport at Biratnagar and then a 40-minute flight to Kathmandu.