Jugal Himal - Panch Pokhari Trek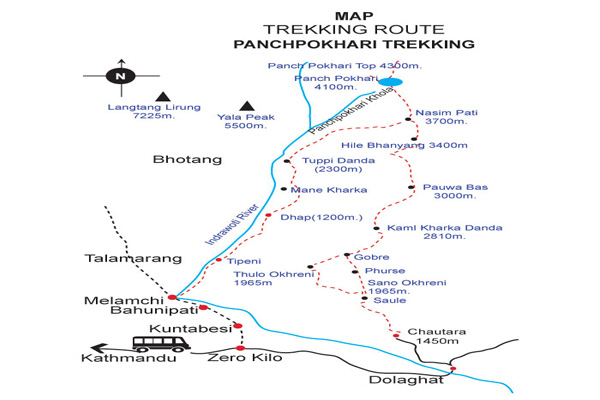 Day 01:
A pleasant drive of 3 hours via the Kodari highway, to Chautara and then about an hour walking to Syauli village then a fairly demanding couple of hours up to a good open campsite on a grazing place, short of Phusre.
Day 02:
An exhausting straight up and minimal water is available (in the spring). Another half hour and the ridge is reached. Good campsite with wood and water at Khojana (before Chocoe Hill) is reached, 2 ½ hours after lunch and a bit early for a camp. Lodge/Camp place is after another one hour's of walk – Bhaise Kharka.
Day 03:
An hour down with the Indrawati River, thousands of feet below on the left and the Balephi Khola the same on the right. The path along the ridge leads to a steep climb after which the path splits. The route over the top is shorter but no water in the springtime. Difficult to keep oriented as the trail is deceptive before it plunges off down the eastside of Chang Samarphu. Down through yet huger rhododendron back to the ridge and camp just past the Col at a large grazing area – Hile
Day 04:
Climb up the hill and an awakening 40 minutes to just below the ridge again. A couple of grazer's huts. Route over the ridge from here leads to Tempathang – shortage of water in the springtime. Then easy and rewarding walk to lunch at Nosem Pati. Views across and up to Panch Pokhari, top of Langtang Lirung, Gosaikund, Ganja La, etc. Camp space limited, well-built stone shelter and year round water nearby.
Day 05:
An extra day at Panch Pokhari for explorations or rest.
Day 06:
Retrace steps up to Nosem Pati, then the trail turns west and go mostly downhill through the forest. Camp near a stream. Time about 6 ½ hours.
Day 07:
The trails descend gradually through scattered villages inhabited by Chettris and Bahuns and their farmland. Mountain views are not great but the trail passes some beautiful waterfalls and other trekkers are hardly seen along the route. No Tea Houses or Lodges throughout this route.
Camp at Dhar Khola, time about 6 hours.
Day 08:
Camp at Tipni village, situated by a stream, time about 5 hours.
Day 09:
Camp at Bahunepati after crossing the Indrawati River. Time about 6 hours.
Day 10:
After breakfast walk for about 3 hours to Shivaghat to take road transport to Kathmandu (about 3 ½ hours drive).
...THE END...