Island Peak(Imja Tse) Climb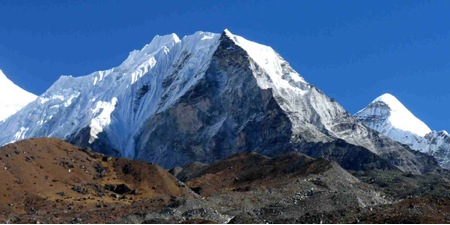 High Camp(5600m):
The route from Chukung leads fairly steeply away climbing south then turning east up the main line of the valley for 30 - 40 minutes. It then winds along or below the southern flank of the moraine from the Lhotse Glacier. Another 20 - 45 minutes of pleasant walking along a streamside leads to what we call 'Big Rock'. The route to the Amphu Lapcha lies to the southeast after a total of 1-¾ hours. A crisscross route through the Imja and Lhotse Glacier moraines leads to a wide valley flanking the SW of Island Peak. An hour walk leads to the base camp at 5050m. A rather unattractive spot with no views and poor water supply. We advise a push up from here to the high camp at 5600m. A steep scramble up round and provides just enough space for several tents.
Climb:
The climb starts with a one-hour scramble across a rock gully and then up the right hand rim of the gully onto broken slate and rock to the snow line. After fitting crampons the route leads up a small snow bank down across gully threatened by overhanging ice, before starting a gentle ascent up a wide glacier basin. The route then turns more steeply to the north to the foot of exposed rock scree. This leads to the hardest section of the route. If climbing with the Sherpas, they will almost certainly put in fixed ropes up the first 60 - 70 meters or so across exposed scree and broken snow/ice field. The route then leads more or less straight up through this mini snow/ice forest to the summit ridge. The last 20 meters or so should also be protected by fixed rope. The ridge offers fine 360-degree views of Makalu, Ama Dablam, Baruntse, Mera Peak (Hongu) and the vast southern flanks of Nuptse and Lhotse. (Snow line to ridge - 3 hours). A final 300m. plus along and up and down the summit ridge finally brings one to the southern summit (6100m.). Total time high camp to summit - approx. 4 hours.
Note:
Conditions and timing may vary according to the season. These notes were made after a successful climb by some of our staff in April 2007. The return follows the same route and we recommend that if the groups are feeling up to it then return back to Chukung.