Bhutan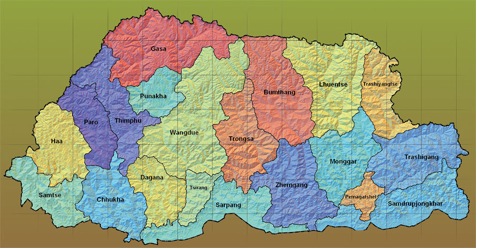 FORMALITIES
Two copies of passport sized photos are required on arrival.
Bhutan Visa
In order to process visa we need to have complete passport details at least 2 weeks before. Visa approval paper is given by the Foreign Ministry 4/5days before the travel date which we pass on to the clients. Though Druk-Air gets one copy from the FM it is better if the clients carry their copy along in order to avoid last minute problems at the airport on the travel date.
Clients entering or exiting from Phuntsholing should have Indian Visa, which they can obtain from the Indian Embassy in their home country.
Tour Booking
During high season/festival period booking should be forwarded to us at least 3 months in advance. Normally hotels start giving confirmation 2 months before the commencement of the tour. Due to limited hotels in Bhutan we often find difficulties getting rooms during peak season so the single rooms will be subject to availability.
Trek
We need minimum 2pax to operate trek. For snowman trek we need minimum 5pax.
Visa fee : US$ 20 per person for 2 weeks which can be further extended with an additional fee of US$ 15 to be paid with the tour cost. Tourism Dev. Fund of US$ 10 per person & entrance fee of US$ 10 per person to be paid with the tour cost.
Tour Payment :
Payment should be transferred to our bank account at least 3 weeks prior to the commencement of the tour & a copy of bank paper should be forwarded to us for our record.
Cancellation policy on Tour :
Once visa is processed & tour programmes booked and subsequently cancelled shall be subject to the following charges :
| | |
| --- | --- |
| a) within 30 days of start of program | - no charge |
| b) within 21 days | - 10% of the rate |
| c) within 14 days | - 15% of the rate |
| d) within 7 days | - 30% of the rate |
| e) less than 7 days or cancellation | - 50% of the rate |
| Without notice | &nbsp |
| f) 24 hours prior to the trip | - 100% of the rate |
FlIGHTS FOR BHUTAN
Druk-Air :
While making reservation with Druk Air, it is very essential to have the correct names (as given in the passport). Also, it is book & buy policy so we need to issue tickets within 24hrs from the booking date.
Druk Air Reservation Procedure :
- Block booking without names will not be accepted.
- It is book & buy policy. Tickets have to be issued within 24hrs from the booking date (valid till 24th Oct, 2009). From 25th Oct-24th April, 2010 ticketing time limit will be 1 month from the booking date.
- Failure to issue tickets within time limit will result in automatic cancellation of reservation.
- Druk-air assumes no responsibility for passengers being offloaded due to invalid travel documents.
Cancellation Charges on Tickets :
a) more than 1 month prior to the travel date : no cancellation but have to pay US$ 25 per person as documentation charge.
b) 11-30days prior to travel date : 50% cancellation + US$ 25 per person as documentation charge.
c) 10days & below : 100% cancellation.
Airfare per person inclusive of flight insurance, fuel surcharge & airport taxes.
| Sector | Y class | J class |
| --- | --- | --- |
| Kathmandu / Paro | US$ 221 | US$ 261 |
| Paro / Kathmandu | US$ 221 | US$ 261 |
| Delhi / Paro | US$ 359 | US$ 445 |
| Paro / Delhi | US$ 346 | US$ 411 |
| Bangkok / Paro | US$ 397 | US$ 477 |
| Paro / Bangkok | US$ 391 | US$ 471 |
| Dacca / Paro | US$ 202 | US$ 242 |
| Paro / Dacca | US$ 221 | US$ 261 |
| Kolkata / Paro | US$ 208 | US$ 277 |
| Paro / Kolkata | US$ 221 | US$ 261 |
Airport tax from Dacca should be paid directly by the clients.
The above rates are subject to change without prior notice.
Insurance
To protect against unforeseen accidents and mishaps, we advise you to have a Travel Insurance policy from your country. It should adequately cover helicopter evacuation and medical assistance.
Tobacco
Import of tobacco and tobacco products for personal consumption – 100% Sales tax and 100% Customs duty. The maximum allowable ceiling for personal consumption are :
| | |
| --- | --- |
| 1. Cigarettes | 1 carton containing 200 pieces of cigarettes. |
| 2. Pipe tobacco | 3 tins of 50 grams each. |
| 3. Other tobacco products | 50 Grams |
Master Card/Visa Card
Very few hotels and shops accept visa card hence, it is better if clients carry enough cash for shopping & paying the bar bills.
FESTIVALS:
Festivals (Tshechus) are held in Bhutan throughout the year at different locations. These festivals are celebrations of faith, legends, myths and history of Bhutan in ancient rituals of colorful dance and music. The most popular for tourists are those held in Thimphu, Paro and Bumthang. They mark the busiest time of the year for tourism and reservation are difficult to come by. Festival time is one of the only periods during a year when tourists are permitted inside the courtyard of the dzongs. The dzongs come to life with colour, music and dancing as valley dwellers and townsfolk dress in their best clothes and join together to exorcise evil spirits and rejoice in a new harvest. Rare masked and sword dances and other rituals are performed in the dzong's courtyards and temples. Each dance has its own significance and can be performed by monks or lay village leaders dressed in bright costumes. Certain festivals end with the unveiling and worship of huge religious appliques or thongdrels. The moment of the unveiling is shrouded in secrecy and creates great excitement amongst all the participants.
Festival Period
The flow of tourists in Bhutan has been increasing every year but there has been little change in the infrastructure. Due to this we face room/guide/vehicle problems mainly during Paro Tsechu, Thimphu Tsechu, Wangdi Tsechu & Jambaylhakhang Drup. Inorder to avoid such problems we suggest to our agents to try & avoid the main festivals and try to include other festivals like Punakha Dromche, Nimalung festival & Nalakhar Tsechu where the tourist inflow is much less. The dances performed are similar in all the festivals.
TENTATIVE FESTIVAL DATES FOR 2010
| Festival | Place | Date |
| --- | --- | --- |
| PUNAKHA DRUBCHEN | PUNAKHA | FEB 18TH – FEB 22ND |
| PUNAKHA TSHECHU | PUNAKHA | FEB 23RD – FEB 25TH |
| CHORTEN KORA | TRASHIYANGTSE | FEB 28TH – MAR 15TH |
| GOMKORA | TRASHIGANG | MAR 23RD – MAR 25TH |
| PARO TSHECHU | PARO | MAR 26TH – MAR 30TH |
| CHUKHA TSHECHU | CHUKHA | MAR 28TH – MAR 30TH |
| URA TSHECHU | BUMTHANG | APRIL 24TH – APRIL 28TH |
| NIMALUNG TSHECHU | BUMTHANG | JUNE 19TH –JUNE 21ST |
| KURJEY TSHECHU | BUMTHANG | JUNE 21ST |
| THIMPHU DRUBCHEN | THIMPHU | SEPT 12TH – SEPT 16TH |
| WANGDI TSHECHU | WANGDUE PHODRANG | SEPT 15TH – SEPT 17TH |
| TAMSHINGPHALA CHOEPA | BUMTHANG | SEPT 16TH – SEPT 18TH |
| THIMPHU MANI | THIMPHU | SEPT 17TH – SEPT 19TH |
| TANGBI DRUP | BUMTHANG | SEPT 22ND – SEPT 24TH |
| JAMBAY LHAKHANG TSHECHU | BUMTHANG | OCT 22ND – OCT 26TH |
| PRAKHAR TSHECHU | BUMTHANG | OCT 23RD – OCT 25TH |
| MONGAR TSHECHU | MONGAR | NOV 13TH – NOV 16TH |
| PEMAGATSHEL TSHECHU | PEMAGATSHEL | NOV 13TH – NOV 16TH |
| TRASHIGANG TSHECHU | TRASHIGANG | NOV 14TH – NOV 17TH |
| NALAKHANG TSHECHU | BUMTHANG | NOV 21ST – NOV 23RD |
| TRONGSA TSHECHU | TRONGSA | DEC 15TH – DEC 17TH |
| LHUNTSE TSHECHU | LHUNTSE | DEC 15TH – DEC 17TH |