Around Manaslu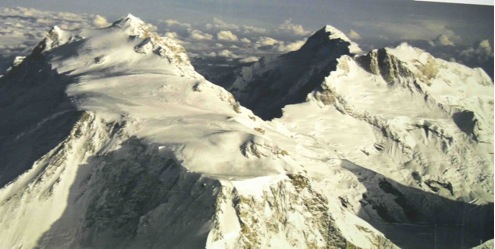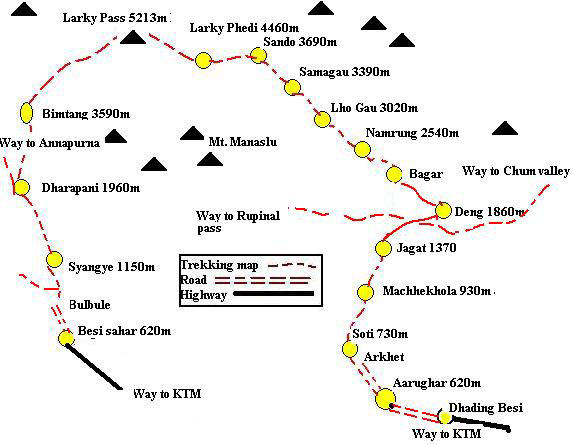 Day 01 Arughat Bazaar (1200'):
The trek starts after a six hour drive from Kathmandu to Arughat.
Day 02 Soti Khola (1500'):
Cross the river and walk northwards along the western bank through agricultural land, scattered villages and views of Ganesh Himal to the northeast. Camp by the river where washing and bathing is also possible. Time – approximately six hours.
Day 03 Beyond Labubesi (1900'):
Cross the Soti Khola and continue walking northwards up the valley. Very few mountain views are available at this point. Lunch can be taken after 2 ½ hours next to the riverbank and then it is another 2 ½ hours or so of ups and downs which lead to a small but beautiful village, Labubesi. Camp beyond the village – time five to six hours.
Day 04 Before Dobhan Khola (2700'):
Continue walking north up the line of the valley. Be careful to keep on the correct trail since there are two trails leading to the Macha Khola, one being a lot longer than the other. Lunch at Macha Khola. Cross the bridge over the river and continue on for about an hour before the trail ascends slightly towards the west for another hour to finally reach some hot springs (Tatopani). The Buri Gandaki is crossed and it is a 2-½ hour walk along the eastern bank before the campsite is reached. Total time – 7 ½ hours.
Day 05 Jagat (4500'):
Continue upstream along the eastern bank of the river for 2 ½ hours. The trail then passes through a huge landslide area for approximately 10 minutes (which will obviously change every year) and care should be taken. A further 20 minutes will bring you to Yaro Khola where there is a beautiful, perfect lunch next to the river. Cross this tributary and continue up the Buri Gandaki River until the village of Jagat. The village is mainly inhabited by Gurungs with a Police Check post and even a post office and a bank. Time – approximately six hours.
Day 06 Ngyak:
Leave Jagat and walk along the riverbank for an hour followed by a 45 minute uphill climb. Then walk towards Setibas for about 30 minutes downhill and onto Ghattekhola where lunch may be taken. Cross Ghattekhola across a bamboo bridge and continue on a wide trail. Relatively easy walking takes you into Ngyak where the evening camp may be just beyond the village. Time – five hours.
Note:
In case of emergency, radio contact is available at Philim where they have contact with the District Head Quarters (Ghorka).
Day 07 Deng (5400'):
As far as Deng, most of the villages consist of Gurungs and Magars with a predominantly Hindu background, but after Deng most people are of Tibetan origin. Almost all these people are farmers and shepherds. A bit of side hill walking for 1-½ hours before a descent to the river gorge. Cross to the west bank and climb steeply for an hour. After a few moderate ups and downs through forest one reaches a settlement of three or four houses belonging to Tibetans. During harvest time it might be a problem to find a campsite, as most of the land will be cultivated. A further half an hour beyond Deng brings you to a good campsite.
Time – about 6 – 7 hours.
Day 08 Gyap (6500'):
Again cross the Buri Gandaki. Walk up stone stairs for 15 minutes to the Lana Village and then westwards on a newly built trail for two hours. Just before Shringe Khola leave the main trail and drop down to the riverside for lunch. After lunch continue walking in the same direction for two hours to the campsite at Gyap, a small Tibetan settlement consisting of several houses. Total time – 4 – 5 hours.
Note:
There are no campsites in the near vicinity; therefore it is essential to camp at Gyap.
Day 09 Namru (8300'):
A pleasant valley walk through dense forest for most of the day. Before reaching Namru village a steep climb is required. Namru is a beautiful village and is situated above Buri Gandaki. It has a small medical aid post and also a police check post with a radio link to Kathmandu. Time – seven hours.
Day 10 Shyala (11000'):
Pass several Tibetan villages en route. The trail passes gently through farmland and then on through rhododendron and pine forest. The Buri Gandaki flows below on the right hand side. After approximately 4 ½ to five hours one passes through the big Tibetan village of Labo. Finally a one-hour climb takes you to a beautiful ridge called Shyala, which is about 45 minutes before Samagaon, and which can be seen ahead situated near the foothills of Manaslu.
Day 11 Samdo (12000'):
A reasonably short walk for acclimatization through the flat expanse of the wide valley of Samagaon in a northwest direction towards Samdo village, panoramic views of Manaslu, Himalchuli and the local mountain known as Dangbona. Time – four hours.
Day 12 Phedi (14000'):
Another relatively short day and one that brings us closer to the Larkya La, a good campsite with good views of the Himalayas (Larkya Himal to the north, Pangpuchi to the north east and Manaslu). Time – four hours.
Day 13 Larcha (11500'):
Start early with a packed lunch for the trek over the pass. Unlike other passes, the Larkya La is not very high (c. 16000') or very steep. The trail gains height gradually. At time no proper trail is visible and sometimes is rough (a rope, ice axe and one Sherpa to each member is advisable if there are weaker members in a group). At the very least it is a five hour slog to reach the top. After crossing the pass one has to descend southwards along a steep downhill landslide area for two hours before reaching Larcha. Time – 7 – 8 hours.
Day 14 Sangure Kharka (9500'):
Continue downwards for two and half hours to a beautiful summer pastureland called Bhimdakothi, stop for lunch here. After lunch walk along the Dudh Khola through beautiful rhododendron forests to Sangure Kharka (pasture), a beautiful camping place with good view of the west face of Manaslu. Time – 6 – 7 hours.
Day 15 Thonje/Dharapani (6200'):
Descend along the path just above Dhudhkhola in the same valley passing a big Gurung village called Tilje (the first village seen after Samdo on the 15th day), and further onto the confluence of Marsyangdi River and Dudh Khola at Thonje/Dharapani. Time – 6 – 7 hours.
Day 16:
Drive back to KTM
Day 17:
In KTM
Day 18:
Departure